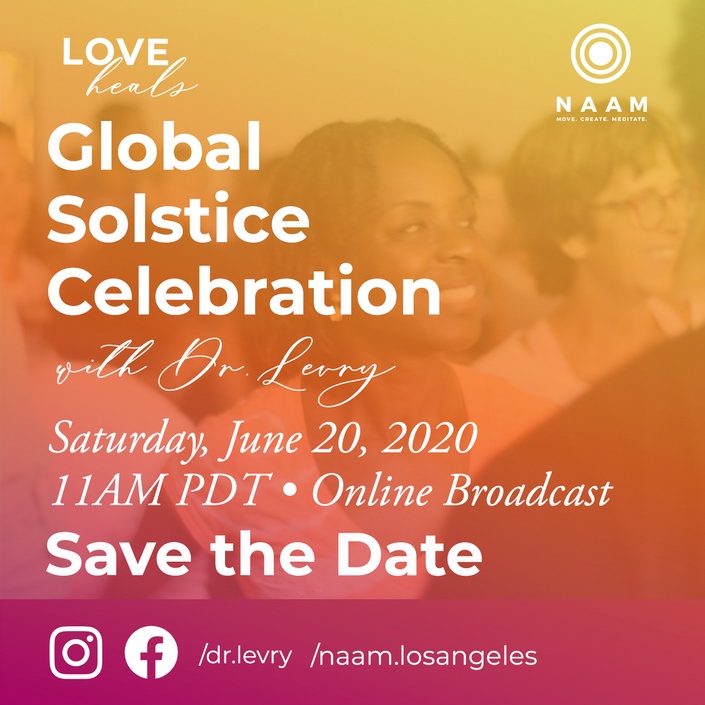 Love Heals Global Solstice Celebration with Dr. Levry
Saturday, June 20th / REPLAY AVAILABLE UNTIL JUNE 27TH
Enroll in Program/Classes
A SPECIAL LOVE HEALS GLOBAL SOLSTICE CELEBRATION
June 20, 2020 | 11AM-1:30 PDT | 2PM-4:30 PM EDT | 13:00-15:30 Horas CDMX
Please note that you will receive a receipt almost immediately after your purchase, but the Livestream link will be sent to you on June 19th and again on June 20th.

Summer Solstice with Dr. Levry will be filmed live and available online at the time of broadcast and by replay. We have extended the replay to 7 days after the live event! Plenty of time to watch again or to purchase if you missed the event.



Please join us on Saturday, June 20th at 11am PDT for a very special Love Heals Global Solstice Celebration that continues to unite hearts and hands around the world in the spirit of unconditional love, healing and worldwide community during this unique period of global change!

In the spirit of Love Heals, the 2020 Global Solstice Celebration is a first of its kind, online celebration that takes place during a very auspicious time of year when an abundance of healing light is flooding the Earth. At this time, we are bringing thousands of hearts together from every country and continent to create a sacred attunement with nature and raise our collective vibration to support global transformation and peace. This is an unprecedented opportunity to work on our physical health, our emotional wellbeing and to strengthen our minds and hearts in light of recent worldwide events and rapidly changing times.
What makes Solstices such a powerful time for renewal and healing?
Every year, nature offers us four especially powerful times for healing and renewal: solstices and equinoxes. These are highly auspicious times where our ability to synchronize our individual energies with the constructive forces of the universe is deeply magnified. We can use this time constructively to improve our health, brighten our energy, let go of negativity and strengthen our mental and emotional resolve for the months to come. Through Love Heals, we have the added bonus of working with the sophisticated healing technology of Naam, or the power of the Word, while coming together as a massive collective, which has been shown both by science and spirituality to magnify our capacity to have an even greater healing impact on the world as a whole.
What to Expect
Feel the indescribable joy of being connected with people worldwide, from every country and continent, who are all focused on healing, health, community and positive global transformation
Be guided through a dynamic, easy to follow practice of movement, breath work, and vocalized healing sound vibration to strengthen your entire body at the molecular level
Work with sacred healing music, selections of which have been shown by science to significantly support the healing process
Experience the powerful energy of unconditional Love and become part of something greater than yourself that is universal in nature
Bring your friends and loved ones to a celebration of one of the four most powerful times of the year for personal growth, conscious living and collective healing! Register with 5 of your friends and receive a 6th ticket complimentary! Email [email protected] for group registration!
*Special Pricing: GLOBAL SOLSTICE + ILLUMINATE FESTIVAL COMBO - Naam LA is hosting Illuminate Summer Solstice Yoga & Music Festival All Day (7am - 10pm). Enjoy lower pricing when you purchase both. Select Solstice Combo pricing option $55 (value $68).*
OPTIONAL ADD ON:
Want to go deeper? Purchase the Global Solstice + Illuminate Festival combo and add on a Personal + Planetary Chart = $132 ($218 value)
Receive an Introductory Personal Planetary Chart - 30 minute consultation on phone or Zoom. Discover how the day you were born creates planetary influences. Find out your first three planets, their impact on your life, how to work with the positive aspects, and understand the challenging ones.
Register with 5 of your friends and receive a 6th ticket complimentary!
Email [email protected] for group registration!