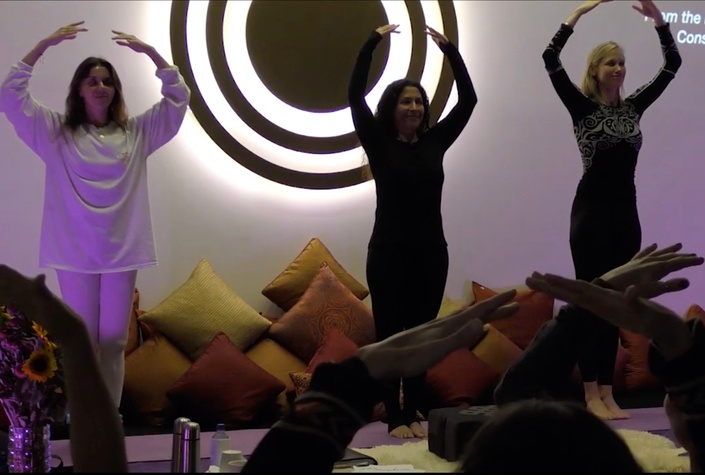 Sukshma Vyayama As Taught By Dr. Levry (Naam Level 3) Masterclass with Dr. Levry
Join From Anywhere In The World!
Special Sukshma Vyayama Masterclass:
Take Your Body, Mind and Spirit to the Next Level!

Now is the time to create the beautiful internal reality that you have always wanted and for a peaceful and confident mind to accompany your healthy and energetic body!

Looking and feeling different from any other form of yoga, Master Classes with Dr. Joseph Michael Levry use a specific series of unique yogic exercises that train the mind and body to easily experience optimal states of profound relaxation and heightened consciousness that carry over to one's daily life to beneficially impact one's performance, communication, intelligence and health.
Modern life can often involve very little physical movement, causing the internal organs and the entire body to suffer and age prematurely. Master Classes strengthen the totality of our being, addressing the body inside and out, from head to toe, and can be practiced comfortably by all levels of practitioners.
Transcending any physical workout, Master Classes are a unique fusion of movement, breath, acupressure, stretching and vocal vibration that strengthen one's spiritual connectedness. The great spiritual teachers of old described the effects of this powerful practice to their students as bringing stillness to the mind and bestowing an enhanced capacity to live comfortably in the present moment regardless of external circumstances.


Dr. Joseph Michael Levry is an author, composer, international speaker, producer of sacred music and dedicated teacher. In his work, Dr. Levry pursues his vision of providing humanity with tools for a healthy lifestyle, peace and happiness. His student base includes people from all backgrounds, age groups and spiritual orientations.

After decades of travelling, studying, exploring and implementing practices within various mystical traditions and yogic sciences, Dr. Levry merged what he observed to be the most healing and therapeutic applications for lasting health and wellbeing under the single discipline of Naam Yoga. This powerful form of yoga is a carefully selected treasury of the world's finest healing arts and metaphysical principles, and a symbol of Dr. Levry's lifelong mission to provide humanity with the purest, most sophisticated tools for self-healing.
El Dr. Joseph Michael Levry es autor, compositor, conferencista internacional, productor de música sagrada y un dedicado Maestro. En su trabajo, el Dr. Levry tiene la visión de proporcionar a la humanidad las herramientas para un estilo de vida saludable, la paz y la felicidad. Su grupo de estudiantes incluye a personas de todos los orígenes, grupos de edad y creencias espirituales.
Después de décadas de viajar, estudiar, explorar e implementar prácticas dentro de varias tradiciones místicas y ciencias yóguicas, el Dr. Levry fusionó lo que observó como las aplicaciones más curativas y terapéuticas para la salud y el bienestar duraderos bajo la única disciplina de Naam Yoga. Esta poderosa forma de yoga es un selectivo tesoro de las mejores artes curativas del mundo y de los principios metafísicos, y un símbolo de la misión del Dr. Levry que es proporcionar a la humanidad las herramientas más puras y sofisticadas para la autosanación.