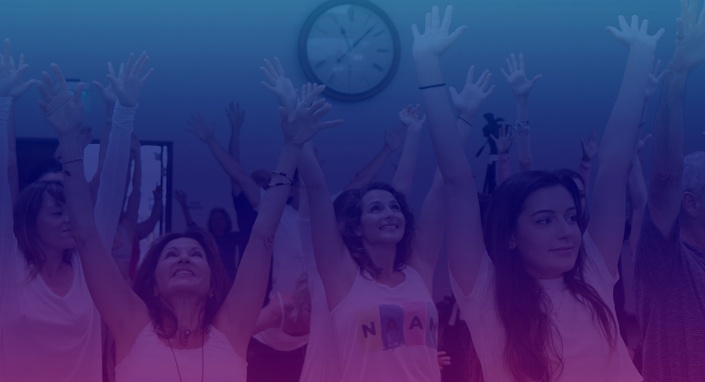 Timeless Treasure Naam Masterclass with Dr. Joseph Michael Levry (a recorded class from our archives) on Saturday, September 4th 2021
Broadcast at 9:00am PDT. 72-hour Replay
Enroll in Program/Classes
Get connected through a Timeless Treasure Masterclass with Dr. Levry from our archives. In this class you will receive two hours of Naam Yoga and Sukshma Vyayama and wisdom. Dr. Levry taps into the power of vibration through mantra and movement

What to expect:

Breathwork and micro-movements for the body and mind
Divine Spiritual Wisdom
A heart-opening experience through the power of Naam
This recorded class will be broadcast live thru Zoom on Saturday, September 4th, 2021 at 9am PDT. Replay available for 72 hours.
$25 for Members
$30 for Non-Members
Dr. Joseph Michael Levry is an author, composer, international speaker, producer of sacred music and dedicated teacher. In his work, Dr. Levry pursues his vision of providing humanity with tools for a healthy lifestyle, peace and happiness. His student base includes people from all backgrounds, age groups and spiritual orientations.

After decades of travelling, studying, exploring and implementing practices within various mystical traditions and yogic sciences, Dr. Levry merged what he observed to be the most healing and therapeutic applications for lasting health and wellbeing under the single discipline of Naam Yoga. This powerful form of yoga is a carefully selected treasury of the world's finest healing arts and metaphysical principles, and a symbol of Dr. Levry's lifelong mission to provide humanity with the purest, most sophisticated tools for self-healing.
El Dr. Joseph Michael Levry es autor, compositor, conferencista internacional, productor de música sagrada y un dedicado Maestro. En su trabajo, el Dr. Levry tiene la visión de proporcionar a la humanidad las herramientas para un estilo de vida saludable, la paz y la felicidad. Su grupo de estudiantes incluye a personas de todos los orígenes, grupos de edad y creencias espirituales.
Después de décadas de viajar, estudiar, explorar e implementar prácticas dentro de varias tradiciones místicas y ciencias yóguicas, el Dr. Levry fusionó lo que observó como las aplicaciones más curativas y terapéuticas para la salud y el bienestar duraderos bajo la única disciplina de Naam Yoga. Esta poderosa forma de yoga es un selectivo tesoro de las mejores artes curativas del mundo y de los principios metafísicos, y un símbolo de la misión del Dr. Levry que es proporcionar a la humanidad las herramientas más puras y sofisticadas para la autosanación.
What people are saying:
Master Class gives you exactly what you need at exactly the right time and in the exact right amount. I am 42 years old and I had been feeling some weakness in my heart that I was afraid would never improve. After three months of attending Master Classes regularly, I was walking up a huge hill one day and noticed how amazing I felt—no trouble from my heart whatsoever! It isn't just the physical healing that Master Classes bring, they help you get out of any negative thinking or feeling that you may be subconsciously addicted to. One thing that I have learned from Master Class is that thoughts create your reality and I feel like I am a much more positive person now. People are always telling me how youthful I look and I just tell them to go to Master Class!!! -----A.H.


It is hard to put into words the amount of healing and joy that happens in each Master Class. Not only do I feel healthier, look younger and have a revived interest in waking up each day, people also tell me that I am much friendlier and easier to get along with and although that is something that I wish hadn't needed to improve on, I am so grateful to Master Class for helping me to "align my attitude", because at the end of the day I just want to be a blessing to my family and surroundings. J.P.



¡Lo que la gente dice!
La Clase Magistral te da exactamente lo que necesitas en el momento exacto y en la cantidad correcta. Tengo 42 años y había estado sintiendo alguna debilidad en mi corazón que temía que nunca mejoraría. ¡Después de tres meses de asistir regularmente a Clases Magistrales, un día estaba subiendo una enorme colina y me di cuenta de lo increíble que me sentía, sin problemas de mi corazón! No es sólo la sanación física lo que te da las clases magistrales, sino que te ayudan a salir de cualquier pensamiento negativo o sentimiento subconscientemente. Una cosa que he aprendido de la Clase Magistral es que los pensamientos crean tu realidad y siento que soy una persona mucho más positiva ahora. La gente siempre me está diciendo lo joven que me veo y les digo que vayan a la Clase Magistral !!! Aa
Es difícil poner en palabras la cantidad de sanación y alegría que ocurre en cada Clase Magistral. No sólo me siento más sano, me veo más joven y tengo un interés intenso en despertar cada día, la gente también me dice que soy mucho más amigable, aunque eso es algo que no hubiera tenido que mejorar, estoy muy agradecido por la Clase Magistral por ayudarme a "alinear mi actitud", porque al final del día sólo quiero ser una bendición para mi familia y mi entorno. J.P.
Classes & Important Messages
Timeless Treasure Masterclass w/ Dr. Levry 2021-09-04 at 9:00am PDT. 72 hour replay***
Available in days
days after you enroll