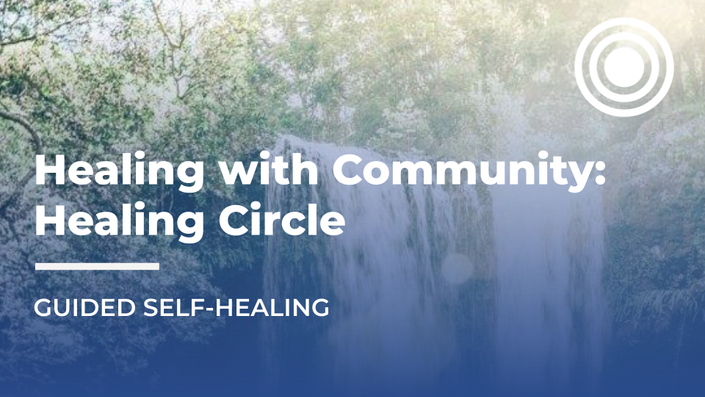 Healing with Community: Healing Circle
This monthly healing circle is part of our 3 month Healing With Community series, a new online series dedicated to healing, soothing and strengthening your nervous system, augmented by the healing power of being in community! In our monthly healing circle you will move into a deep state of relaxation and experience the benefits of metaphysical healing and sound vibration. The healing sessions will be available by livestream and replay for following 10 days.
We've added lower pricing option if you are joining the package or this course from November 21- December 5.
The effects of individual and collective trauma are growing, and it is increasingly necessary to self-regulate your nervous system so that you can find a way out of survival mode and tap into your innate intelligence, joy, genius and purpose.
The world needs you. Your contribution to the world requires you to operate from a place of consciousness, not survival.
This healing protocol is designed to release emotional and mental blocks that are holding you back, limiting your experience of health, connection and success.

*progressively untangle the knots of emotional and mental tension
*renew your brain and nervous system
*infuse your entire body with high frequency energy
*experience deep relaxation and mental and emotional peace
*deeply restore your reservoir of energy so you can go back into the world with more to give
NOTE: The Healing Circle is complementary to any healing work you are practicing. For anyone proactively healing, you will likely find this accelerates the work you are doing.
The Healing Circle meets online at 11am-12:15pm PST

DATES
Sunday November 7
Sunday December 5

Sunday January 9
Enroll in the Healing Circle or go to Healing with Community: The Complete Package to enroll in the full series of 3 healing courses.
Classes & Important Messages
Healing Circle Sessions: Livestream on Dates/Times Below
Available in days
days after you enroll
El Círculo de Sanación en español
Available in days
days after you enroll
This course is closed for enrollment.