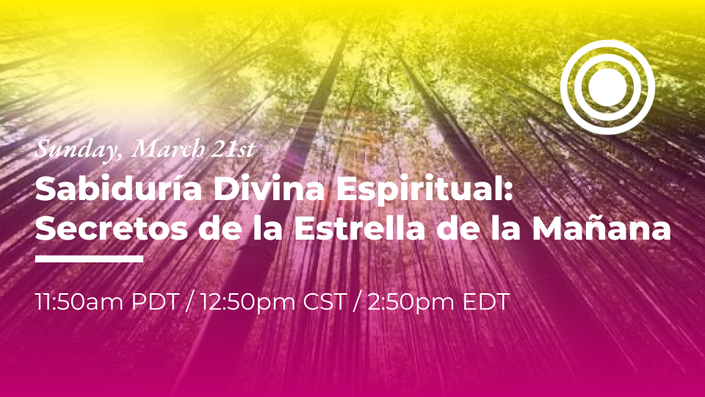 Sabiduría Divina Espiritual: Secretos de la Estrella de la Mañana con Chris Merrill
Sábado 21 de marzo a las 11:50am-1:05pm PDT / 12:50pm-2:05pm CST
¿Sabías que existe un sistema superior que los yoguis y los cabalistas usan para mejorar su salud, riqueza, vitalidad y para crear éxito y fama? El secreto radica en la habilidad de extraer grandes cantidades del misterioso fluido del Sol que inunda todo el universo cada primavera. ¡Este misterioso fluido también tiene una correlación directa en el incremento de la vitamina D en el cuerpo que, según algunos estudios, previene la infección por covid 19 hasta en un 1000% y disminuye la intensidad de los síntomas, así como la duración de la enfermedad.
Los egipcios entendieron el uso de este fluido para la salud y el éxito, y tenían la maestría de este fluido. Como Naam Yoguis, también tenemos acceso a esta tecnología vital. En este taller aprenderás a autosanarte con:
2 tratamientos diarios para extraer esta fuerza dadora de vida.

Una técnica para usar esta fuerza cuando estás cansado.

¡Aplicaciones de esta fuerza para la salud renal, el éxito, la energía, la vitalidad, aliviar el dolor de espalda, superar enfermedades, aumentar la fuerza del sistema inmunológico, sanar, cargar tu sistema nervioso, incrementar la inteligencia, el poder cerebral y más!
Además, cómo usar el fluido solar para sanar a otros:
● Técnicas para que aumentes tu energía antes de dar una sesión de sanación.
● Usando el fluido del sol para sanar a otros a distancia.
● ¡y una técnica para eliminar el Karma!
El momento es ahora: ¡La Primavera! ¡No permitas que la enfermedad, el envejecimiento, el agotamiento o la depresión se apoderen de ti! ¡Acompaña a Chris Merrill y a Naam Los Ángeles en esta proeza de 75 minutos!
Fecha: sábado, 21 de marzo del 2021
Hora: 11:50 am-1:05pm PDT / 12:50-2:05pm CDT / 2:50-4:05pm EDT
Este taller es parte del Retiro de un Día. Para más detalles o para inscribirse en todo el retiro, Haz Clic Aquí.
Your Instructor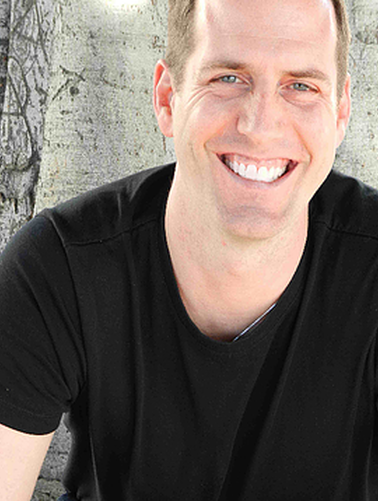 Chris Merrill has spent almost 2 decades of intense daily study, learning, teaching and practice of multiple styles of yoga, breathwork, meditation, healing and spirituality, preceded by an additional 10 years as a successful professional musician. Well known for his expertise in the science of Naam Yoga Therapies and Universal Kabbalah, Chris is able to help his students be in the right place at the right time. As a result they are able to maximize and seize opportunities regardless of external stressors. Chris's firsthand experience of the power of these teachings to help identify and overcome deeply rooted subconscious patterns continually inspires him to share them with others. With a warm, casual, compelling style, Chris is known for his ability to take universal truths and distill them into practical applications for everyday life. His students use these techniques to diagnose the source of their self-imposed limitations, claiming their power by overcoming them quickly. A dedicated student of renowned kabbalist Dr. Joseph Michael Levry, Chris has recently moved to Los Angeles, from New York City, and is loving the ocean, the weather and the natural beauty of the California landscape. Upcoming ventures include the release of his first CD and a dynamic website to help people understand how the laws of nature will affect them on a daily basis.
Classes & Important Messages
Sabiduría Divina Espiritual: Secretos de la Estrella de la Mañana
Available in days
days after you enroll
Courses Included with Purchase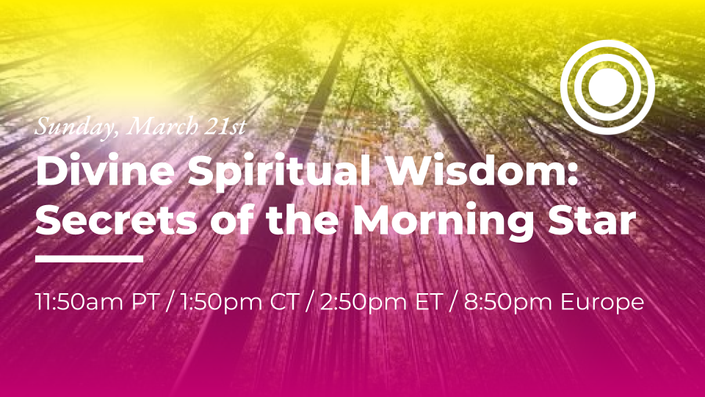 Divine Spiritual Wisdom: Secrets of the Morning Star
Sunday, March 21st from 11:50am-1:05pm PDT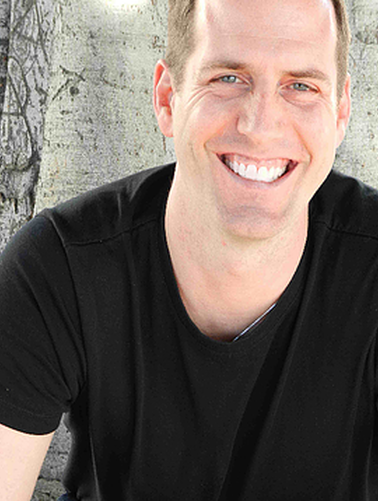 $60
Original Price: $60