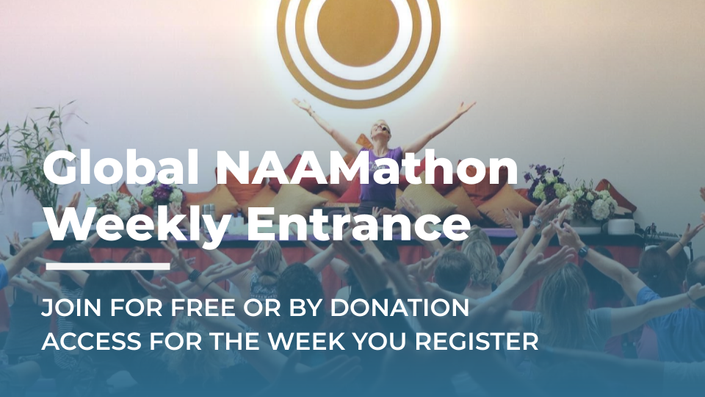 (русский ниже)
What's a NAAMathon?

NAAM = Neuro Activating Advanced Meditation
A Naamathon is two hours of continuous Naam meditation with sacred music, mantras and mudras (hand postures). When many people come together in this way, the concentration of positive energy increases exponentially. This is a beautiful opportunity to send love, healing energy and light to our family, loved ones and Mother Earth. All are welcome!
Join online for the weekly livestream on Sundays at 8:30-10:30am PST. Replays within 24 hours (most likely sooner).
This registration page allows you to enroll each week for free or by donation. You will also have access to that week's meditation.
If you would like to have continual access each week and all replays we also offer a monthly Naamathon membership. Monthly Naamathon subscribers will not need to enroll each week. The monthly membership also provides you with our library of NAAMathon replays, not just the one from each week. Monthly memberships are by donation amount of your choice. It will auto-renew unless cancelled and can be cancelled anytime simply by clicking on the My Account icon (upper right corner).

Got Questions? Need Help?
Email:[email protected]
Воскресный Наматон с 8:30 до 10:30 PST.

Что такое Нааматон?

Наша непрерывная медитация Наам со священной музыкой, мантрами и мудрами (позами рук) теперь доступна еженедельно! Когда многие люди собираются вместе таким образом, концентрация положительной энергии возрастает в геометрической прогрессии. Это прекрасная возможность послать любовь, исцеляющую энергию и свет нашей семье, близким и Матери-Земле. Добро пожаловать всем! PDF-файл мантр, использованных в этом мероприятии, прилагается к учебному плану. Мы будем делать мантры в том же порядке, что и на листе. Мудрой и движениями, сопровождающими каждую мантру, будут руководить различные участники. Следуйте за нами и получайте удовольствие!
Бесплатно или пожертвованием (рекомендуемое пожертвование $10)
Когда это начнется?
Нааматон идет в прямом эфире с 8:30 утра до 10:30 утра по Лос - Анджелесскому времени или с 18: 30 до 20: 30 по Mосковскому времени в воскресенье. Для получения инструкций о том, как транслировать этот класс, пожалуйста, просмотрите примечания в учебном плане ниже, где написано: "Hужна помощь в входе в систему"? Кликните сюда.
Your Instructor