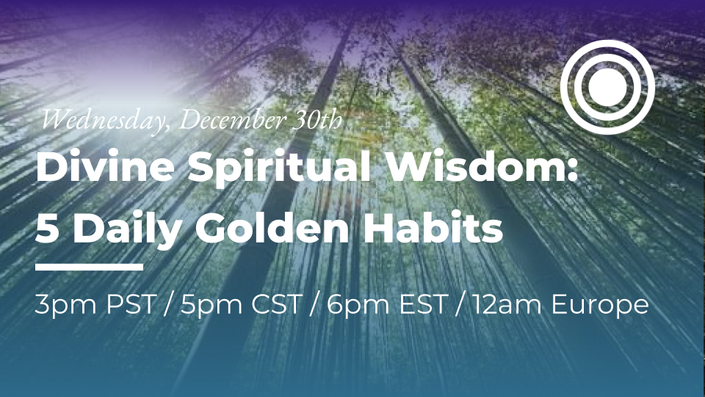 Divine Spiritual Wisdom: 5 Daily Golden Habits (Replay)
3pm PST / 5pm CST / 6pm EST / 12am Europe
When: Wednesday, December 30th
Time: 3-5pm PST / 5-6pm CST / 6-8pm EST / 12am-1am Europe
Join us for 5 Golden Daily Habits for Success!
Make small changes now so that you are ready for success in the new year!
Do you ever feel depleted at the start of each day even after a sufficient good night sleep? and when looking at your daily tasks you are feeling even more overwhelmed and exhausted. It is not easy to feel defeated and discouraged before your day has even begun.
There are 5 golden daily habits that can help you greet your day feeling energized, focused, and hopeful. Are you ready to set yourself up for success? At the end of this webinar, you will be confident and empowered to live a successful life, no matter what unexpected situations life brings. Are you ready?
In this webinar you'll learn to:
1. Become aware of unhealthy likes and dislikes that affect your success
2. Discern between ego-based habits and soul-based habits
3. Cultivate the 5 Golden Daily Habits to live a joyful successful life
Your Instructor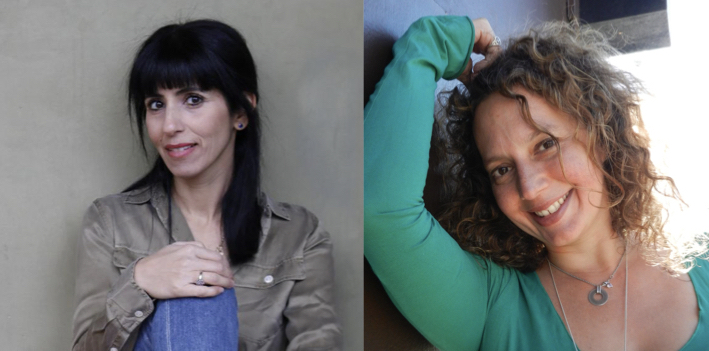 Sivan Einav and Courtney Miller will lead you through a transformative webinar to jumpstart your new golden habits. With nearly two decades of personal mentoring by Dr. Levry, Sivan & Courtney are seasoned international Universal Kabbalah teachers.

Sivan is a wellness expert, a practical Kabbalist, a believer in women's ability to reconnect to their higher spiritual potential. She is the founder of "Binahtit," a company dedicated to helping women manifest their "Desired Reality" in love relationship, career and wellbeing. In her private practice Sivan applies "The Binahtit Method" which combines proven formulas for success and wellbeing from multiple modalities including Kabbalistic Astrology, Ayurveda, Yoga, and Clinical Nutrition.
Sivan was born and raised in Israel, and from a young age she was exposed to the mysteries and traditions of Kabbalah and the science of the body's healing potential. She grew up surrounded by many powerful women who taught her to connect to the Divine Feminine energy with her, and to heal herself and others with herbs and homemade remedies.
Sivan holds a Master's Degree in Nutrition, and she studied Ayurvedic Medicine under the guidance of an Ayurvedic Master. For the past 17 years Sivan has been studying under the guidance of Dr. Joseph Michael Levry – a world renown Kabbalist and the founder of Naam. Sivan is an active member of the Naam International Naam Teacher Training Program Team.
To learn more about Sivan: sivaneinav.com
Courtney is the co-founder of Naam LA and a highly sought after life coach for the complete mind, body and spirit connection. She is known for her genuine uplifting, positive and especially loving teaching style. As a Director of Harmonyum, she has assisted Dr. Levry in over 40 Harmonyum trainings in the last 15 years.
Courtney has studied Divine Spiritual Wisdom with Dr.Levry since 2001, and played a key role in the development of material used for teaching and mentoring apprentices for the Universal Kabbalah Study and Certification program, as well as Harmonyum I, Harmonyum II, Harmonyum III as well as Naam Yoga Teacher Trainings 1, 2 and 3, the Shakti Naam Training and the Kabbalah of Birth trainings.
Through a combination of private sessions, public classes, workshops and trainings, Courtney is committed to bringing the healing and positive life-changing benefits of Harmonyum, Divine Spiritual Wisdom and Naam to everyone who is seeking a more fulfilling, happy and Grace-filled life!
To learn more about Courtney: @courtneynaamlife
Classes & Important Messages
Divine Spiritual Wisdom: 5 Daily Golden Habits
Available in days
days after you enroll