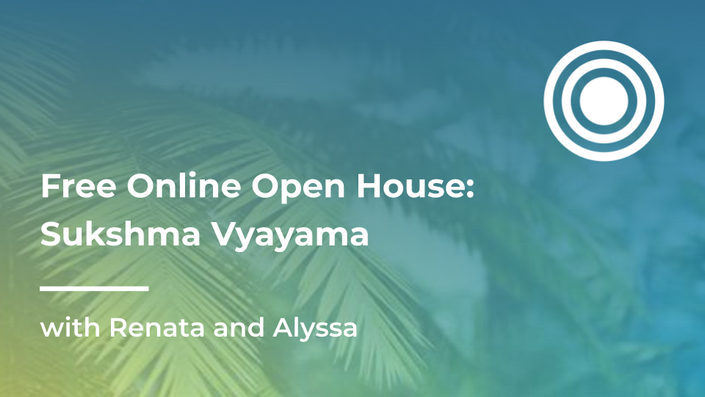 Free Open House: Intro to Sukshma Vyayama with Alyssa and Renata
Learn about Sukshma Vyayama as Taught by Dr Levry
Learn about Sukshma Vyayama as taught by Dr. Levry - a practice rooted in the ancient method from the Himalyas that was used by yogis to bring life back to the body when coming out of deep prolonged states of meditation. This Open House includes interviews with Alyssa Gaustad and Renata Spironello, a pre-recorded Intro to Sukshma Vyayama class taught by Alyssa Gaustad an explanation of "The Yoga of Immortality" so that you can see how these items all fit together.

If you've taken a Naam Yoga class you've most likely done some of these breath exercises and have had a taste of this powerful technology. Imagine a full sequence of breath techniques that bring healing energy and strength all the parts of your body, from head to toe.
Some benefits of Sukshma Vyayama
Improved brain function (concentration, focus, memory)
Balanced endocrine system (hormonal balance)
Revitalized muscular and skeletal system (endurance, resilience, posture, muscle tone)
Reduced neck and shoulder tension
Increased metabolism to support ideal body weight
Enhanced detoxification to rid of environmental and internal toxins
Sustained energy flow through the day
Harmonized digestion and elimination
Heightened proprioception and balance
Improved eyesight
Increased joy
Balanced emotions through the power of sound vibration
Your Instructor
Renata Spironello
Renata Spironello's is a Senior Harmonyum Practitioner, Naam Yogi and Universal Kabbalah teacher. She is admired and respected for her skills in business development and empowering individuals to reach beyond themselves. This optimistic and heartfelt native Brazilian's commitment to excellence and service to humankind has earned her the respect and recognition of her clients and peers. For the past 10 years, she has been working with the psychotherapeutic application of Divine Spiritual Wisdom to help people from all walks of life with their health, relationships, communication, and careers. Renata shares her perspicacious professional insights as a Naam Yoga Certified Teacher Trainer throughout the year and is a member of the International Naam Yoga Association, the International Harmonyum Association, and Yoga Alliance. She is deeply committed to contribute to the positive evolution of humankind through her profound and spiritual work with Women and Mothers-to-be through The Kabbalah of Birth and Beyond trainings that she imparts along with other powerful women. She believes that women are the only Hope for a true and everlasting change of humanity. Renata also teaches Divine Spiritual Wisdom on a regular basis in Mexico, Spain, Germany, and Brazil. When in the United States she makes her home in Los Angeles at Naam Yoga LA Research and Healing Center in Santa Monica. She has been blessed to study under the guidance of Dr. Joseph Michael Levry, founder of Naam Yoga and father of Harmonyum Healing, and often travels with him as his assistant all over the world.
Alyssa Gaustad

Alyssa is honored to share the nourishment of Divine Spiritual Wisdom and to transform through the ecstatic luminous blessing of Naam. A dancer at heart, her classes are infused with love, musicality, inspiration, devotion, discipline and respect for each individual's process. Alyssa trained extensively in dance for over 20 years and graduated cum laude with a BA in dance where she honed her teaching skills studying pedagogy, anatomy and injury prevention. Alyssa received her certifications in the Gyrotonic Expansion system, Gyrokinesis, Pilates Mat, Kundalini Yoga and Naam Yoga® Therapies Levels I, II and III. She danced professionally and taught a variety of populations and settings including hospitals, gyms, offices, yoga studios and private clients in NYC for over ten years. Currently, Alyssa is a Senior Harmonyum Practioner and Naam Yoga® Therapies Teacher Trainer. She teaches Shakti Naam Yoga(TM), Dancing Naam(TM), New and Full Moon Rituals and Universal Kabbalah as taught by Dr.Joseph Michael Levry. In addition, Alyssa is on the Kabbalah of Birth and Beyond(TM) Faculty. Alyssa lives in LA and teaches with an incredible team of colleagues around the world including Brazil, Germany, Switzerland, Spain and Mexico.

Classes & Important Messages
Sukshma Vyayama Online Open House
Available in days
days after you enroll