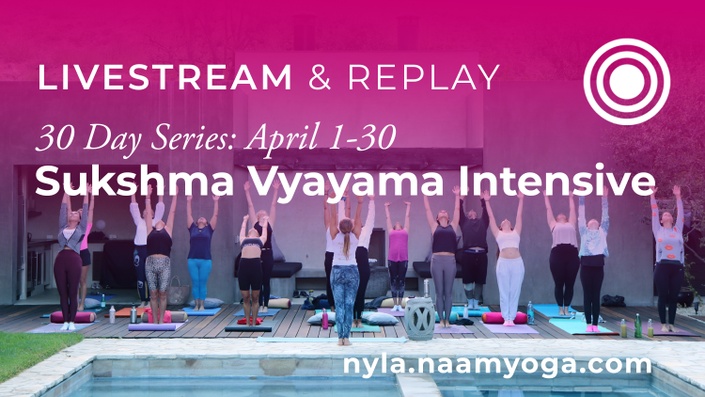 Sukshma Vyayama April Series Intensive
LIVESTREAM+REPLAY (April series) flexible option
This health practice has been kept secret for centuries and is now being introduced to the Western World. This series of exercises is used by advanced yogis when coming out of Samadhi (a deep state meditation where the practitioner may be still for hours, days or months at a time) to bring life and vitality back in the body. It is known as the yoga of immortality as it works on the subtle body know as Sukshma Sharira which gives life and vitality to the physical body. This practice is designed to rid the body of disease, re-establish the flow of prana in the body, and awaken dormant powers in you.It looks and feels different from other forms of yoga and the energy released is felt within the first 5 minutes of practice.This is a wellness and health practice that complements any other forms of yoga, athletics, performance and fitness modalities you may do and causes you to catapult to a new level of excellence. With a consistent practice of Sukshma Vyayama Powered by Naam you feel renewed, and you gain an inner strength and power rarely accessed through any other means.
Benefits include:
Improved brain function (concentration, focus, memory)
Balanced endocrine system (hormonal balance)
Revitalized muscular and skeletal system (endurance, resilience, posture, muscle tone)
Reduced neck and shoulder tension
Increased metabolism to support ideal body weight
Enhanced detoxification to rid of environmental and internal toxins
Sustained energy flow through the day
Harmonized digestion and elimination
Heightened proprioception and balance
Improved eyesight
Increased joy
Balanced emotions through the power of sound vibration
Dates
now - April 30, 2020
Time
7.00am - 8.55am PST
Important note 1: LIVE classes will happen EVERY OTHER DAY (days 1, 3, 5, etc..) - The rest of the days, you choose from a pre-recorded class.
Important note 2: Please consult your health practitioner before starting this or any other yoga practice. By purchasing this course, you agree to the Agreement of Release and Waiver of Liability. Please read it carefully before enrolling.
Agreement of Release and Waiver of Liability
When you purchase this course, you confirm that you have read, understood and agree to the Agreement of Release and Waiver of Liability as defined hereafter.
1. I recognize that yoga and other exercise and movement classes may require physical exertion, which may be strenuous and may cause physical injury. I am fully aware of the risks and hazards that may be involved.
2. I understand that it is my responsibility to consult with a physician prior to and regarding my participation in yoga classes. I represent and warrant that I am physically fit and have no medical condition, which would prevent my physical participation in yoga classes.
3. In consideration of being permitted to participate in the yoga and other classes at I agree to assume full responsibilities for any risks injuries, or damages, known or unknown, which I may incur or sustain, as a result of participating in yoga classes.
4. I hereby request and consent to participate in the course "LIVESTREAM Sukshma Vyayama Intensive". I, my heirs or legal representatives, in consideration of my all services, classes and Harmonyum treatments forever release, waive, and covenant not to sue teachers, Naam Los Angeles, Rootlight International Inc., its officers, employees, and any other people officially connected, for any injury and do release from any and all liability due to injury, sickness, dissatisfaction, disagreement with content or teaching style and/or from whatever source which might occur during or after participation in that course.
Pricing

This course is offered at a 50% discounted price to support our global students during this current period of change and challenge.
April Series: $250 (instead of $500)
Classes & Important Messages
Livestream schedule (ONLY for days 1, 3, 5, 7, 9, etc...)
Available in days
days after you enroll
Recorded Classes
Available in days
days after you enroll