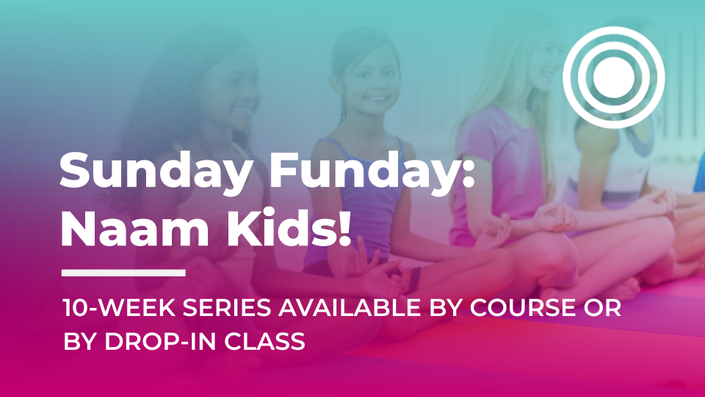 Sunday - Fun-Day


Introducing the Naam Kids channel - a safe and fun healing space for kids and families


Live online Sundays for 45 minutes.

Replay available any time.




This program has been designed with love for all children to come together online and find a vibrant community of peers. It is a place to connect with each other online in this time of fast changes, when many are isolated providing them with a carefully created program aimed to strengthen their character, intellect, emotional intelligence and body as well as their spiritual awareness.
Naam Kids classes, Divine Spiritual Wisdom story time, Naam Kids music time, Naam Kids games and so much more.

This program is designed to:

assist in the cognitive development of your children,

foster healthy neural circuits and patterns

help your children to find emotional balance

strengthen your child's body for health, better coordination and flexibility

uplift the child's spirits in this often stressful, digital time

help children find joy and enrichment in safe and uplifting classes

build inner strength and courage

help your child to process emotions of fear and anxiety

All in the comfort of your own surroundings anytime from any where

Early-Bird Registration is Now Open


Know a child who needs support during this time? Gift the Naam Kids' Channel to someone you care about today!

Date: Sunday March 21-May 23, 2021
Time: 9-9:45am PDT
Price: $19.00 single class; $91.00 for the series
We invite you to follow us on Instagram @naam.losangeles
Teaching Team:
March 21st: Primavera Salva
March 28th: Karen Seva - Naam Music & Singing
April 4th: Dana Abraham - In the Arms of the Grandmother Tree
April 11th: Jill Cikins
April 18th: Primavera Salva
April 25th: Gloria Truppi
May 2nd: Jara Millman
May 9th: Megan Chaskey - Shadow puppet story
May 16th: Kirsten Eberly - Naam Kids mantras & music
May 23rd: Amanda Plant
Replays are uploaded as soon as possible after the recording has processed. From time to time there may be a slight delay.

Your Instructor
NAAM KIDS has all the benefits of NAAM YOGA in a pint sized package! This uniquely effective application of yogic postures, breath work, movement and sound vibration maintains the health of the body and mind. NAAM KIDS enhances flexibility, coordination and body awareness, improving concentration and sense of calm while learning to connect more deeply with their inner self. In addition, the kids learn Divine Spiritual Wisdom and the relationship between their lives and the greater workings of the universe. For more information, please email: [email protected]
Classes & Important Messages
Frequently Asked Questions
When does the course start and finish?
The course includes 10 live sessions on Sundays at 9-9:45am PDT on March 21-May 23 and will also be available by replay. You can enroll in the series for full access or you can enroll for a day if you'd like to drop in. If enrolling for a drop-in class, you will have access to the course for 24 hours (expires 24 hours from purchase time).