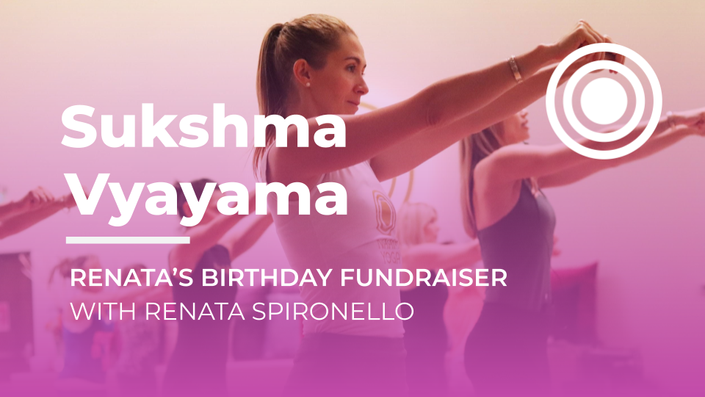 Renata's Sukshma Birthday Party: Fundraiser for Naam Estate
Tuesday, January 26th at 6:30am-8:00am PST
Enroll in Program/Classes
Renata's birthday wish is for more people to experience the health benefits of Sukshma Vyayama and for an abundance of funds to be raised to support the renovations at Naam Estate.
This birthday class can accomplish both!
Please join Renata Spironello for her Sukshma Birthday Party on Tuesday, January 26th at 6:30am-8:00am Pacific / 8:30am-10:00am Central / 9:30am-11:00am East Coast / 3:30pm-5:00pm Europe
This class will be offered Live and the Replay will be available for 72 hours.
NOTE: If you are already enrolled in the 6:30am January Series, you can enter through the your course listings or if you choose to participate in the fundraiser you can enroll here.
All proceeds will be donated to Naam Estate. 100% of each donation for this class will be given as a gift to the Naam Estate. All donations over $25 will receive a tax deductible letter from Naam Yoga LA for the value of their donation. (The tax deductible amount equals your total donation minus $25.)
About Sukshma Vyayama

Sukshma Vyayama Powered by Naam as Taught by Dr. Levry
Based on a health practice that has been kept secret for centuries and is now being introduced to the Western World, this series of exercises is used by advanced yogis when coming out of Samadhi (a deep state meditation where the practitioner may be still for hours, days or months at a time) to bring life and vitality back in the body. It is called the yoga of immortality as it works on the subtle body known as Sukshma Sharira which gives life and vitality to the physical body. This Sukshma practice adds in Naam and specific body angles and is designed to rid the body of disease, re-establish the flow of prana in the body, and awaken dormant powers in you.
It looks and feels different from other forms of yoga and the energy released is felt within the first 5 minutes of practice.This is a wellness and health practice that complements any other forms of yoga, athletics, performance and fitness modalities you may do and causes you to catapult to a new level of excellence. With a consistent practice of Sukshma Vyayama Powered by Naam you feel renewed, and you gain an inner strength and power rarely accessed through any other means.
Benefits include:
Improved brain function (concentration, focus, memory)
Balanced endocrine system (hormonal balance)
Revitalized muscular and skeletal system (endurance, resilience, posture, muscle tone)
Reduced neck and shoulder tension
Increased metabolism to support ideal body weight
Enhanced detoxification to rid of environmental and internal toxins
Sustained energy flow through the day
Harmonized digestion and elimination
Heightened proprioception and balance
Improved eyesight
Increased joy
Balanced emotions through the power of sound vibration
Your Instructor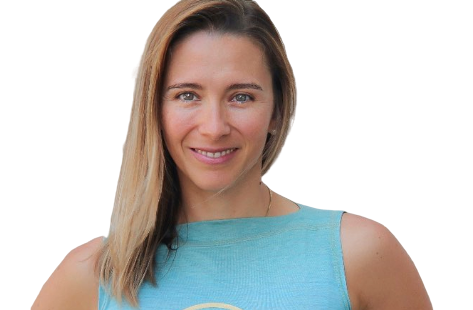 Renata Spironello is a Senior Harmonyum Practitioner, Naam Yogi and Universal Kabbalah teacher. She is admired and respected for her skills in business development and empowering individuals to reach beyond themselves. This optimistic and heartfelt native Brazilian's commitment to excellence and service to humankind has earned her the respect and recognition of her clients and peers. For the past 10 years, she has been working with the psychotherapeutic application of Divine Spiritual Wisdom to help people from all walks of life with their health, relationships, communication, and careers. Renata shares her perspicacious professional insights as a Naam Yoga Certified Teacher Trainer throughout the year and is a member of the International Naam Yoga Association, the International Harmonyum Association, and Yoga Alliance. She is deeply committed to contribute to the positive evolution of humankind through her profound and spiritual work with Women and Mothers-to-be through The Kabbalah of Birth and Beyond trainings that she imparts along with other powerful women. She believes that women are the only Hope for a true and everlasting change of humanity. Renata also teaches Divine Spiritual Wisdom on a regular basis in Mexico, Spain, Germany, and Brazil. When in the United States she makes her home in Los Angeles at Naam Yoga LA Research and Healing Center. She has been blessed to study under the guidance of Dr. Joseph Michael Levry, founder of Naam Yoga and father of Harmonyum Healing, and often travels with him as his assistant all over the world.
Classes & Important Messages
Renata's Sukshma Birthday Party: Fundraiser for Naam Estate
Available in days
days after you enroll
Frequently Asked Questions
When does the course start and finish?
This course will be a live class at 6:30am-8:00am PST and the replay will be available for 72 hours.
How long do I have access to the course?
The replay will be available for 72 hours.