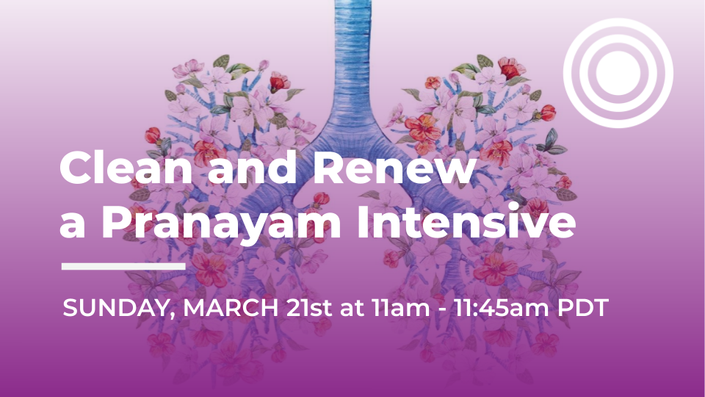 Clean and Renew: A Pranayam Intensive
Sunday, March 21st from 11:00am-11:45am PDT
It's Spring! Nature is blooming and its the quintessential time for cleansing, growth and renewal! Spring cleaning is just as important for your physical, emotional and mental health as it is for your home! In Chinese medicine, spring is a natural time to release feelings of anger, frustration, resentment and lethargy. These feelings can build up and intensify if we don't support the liver/gallbladder energy associated with springtime in traditional Chinese medicine. Interestingly the liver/gallbladder energy play a pivotal role in our lung health which can then affect your immunity and trigger seasonal allergies.
One major and effective tool to support the liver and the clearing of these emotions, as well as your immunity, is to breathe consciously. The breath is the king of the mind. The mind will always follow the breath and our emotions follow the mind.
Take charge of your emotional health and strengthen your immune system during this short and sweet, 45 minute breath experience with Deborah Braun. Learn and experience breaths to:
-clear your mind
-strengthen your natural immunity
-release frustration and anger so that your happiness and joy can shine through!
Date: Saturday March 21, 2021

Time: 11:00-11:45am PDT / 12:00-12:45pm CST / 2:00-2:45pm EDT / 7:00-7:45pm Europe
This Workshop is part of a One-Day Retreat. For details or to enroll in the entire retreat Click Here
Your Instructor
Classes & Important Messages
Clean and Renew: A Pranayam Intensive
Available in days
days after you enroll