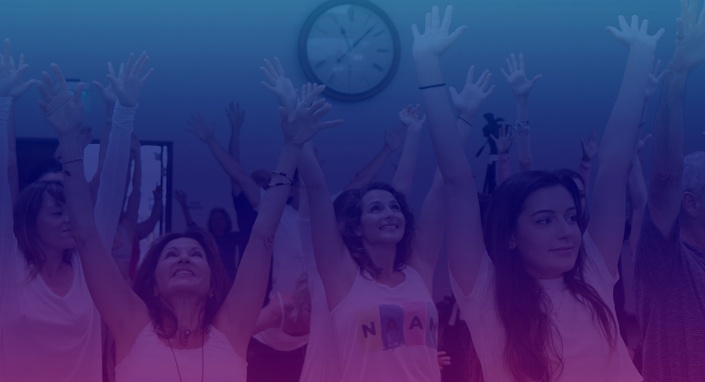 Timeless Treasures Masterclass Online Education (Monthly Subscription)
Shakti Naam Yoga with Dr. Levry (self-paced Masterclass recordings from the archives)
Take Your Body, Mind and Spirit to the Next Level! This self-paced online course includes 3 years of archived Master Class recordings with Dr. Levry, founder of Naam Yoga.

Now is the time to create the beautiful internal reality that you have always wanted and for a peaceful and confident mind to accompany your healthy and energetic body!

Looking and feeling different from any other form of yoga, Master Classes with Dr. Joseph Michael Levry use a specific series of unique yogic exercises that train the mind and body to easily experience optimal states of profound relaxation and heightened consciousness that carry over to one's daily life to beneficially impact one's performance, communication, intelligence and health.
Modern life can often involve very little physical movement, causing the internal organs and the entire body to suffer and age prematurely. Master Classes strengthen the totality of our being, addressing the body inside and out, from head to toe, and can be practiced comfortably by all levels of practitioners.
Transcending any physical workout, Master Classes are a unique fusion of movement, breath, acupressure, stretching and vocal vibration that strengthen one's spiritual connectedness. The great spiritual teachers of old described the effects of this powerful practice to their students as bringing stillness to the mind and bestowing an enhanced capacity to live comfortably in the present moment regardless of external circumstances.






¡Lleva Tu Cuerpo, tu Mente y tu Espíritu al siguiente nivel!




¡Ahora es el momento de crear la hermosa realidad interna que siempre has deseado, una mente tranquila y confiada para acompañar tu cuerpo sano y vigoroso!




Diferente de cualquier otra forma de yoga, las Clases Magistrales con el Dr. Joseph Michael Levry utilizan una serie específica de ejercicios yóguicos únicos que entrenan a la mente y el cuerpo para experimentar fácilmente estados óptimos de relajación profunda y el aumento de la conciencia para la vida diaria en beneficio del rendimiento, la comunicación, la inteligencia y la salud de la persona.




La vida moderna a menudo puede implicar muy poco movimiento físico, causando que los órganos internos y todo el cuerpo sufra y envejezca prematuramente. Las Clases Magistrales fortalecen la totalidad de nuestro ser, dirigiéndose al cuerpo por dentro y por fuera, de la cabeza a los pies, y pudiendo ser practicadas cómodamente por todos los niveles de participantes.




Transcendiendo cualquier entrenamiento físico, las Clases Magistrales son una fusión única de movimiento, respiración, acupuntura, estiramiento y vibración vocal que fortalecen la conexión espiritual de la persona. Los grandes maestros espirituales de la antigüedad describieron los efectos de esta poderosa práctica para sus estudiantes como la quietud de la mente y el otorgamiento de una mayor capacidad para vivir cómodamente en el momento presente, independientemente de las circunstancias externas.




Dr. Joseph Michael Levry is an author, composer, international speaker, producer of sacred music and dedicated teacher. In his work, Dr. Levry pursues his vision of providing humanity with tools for a healthy lifestyle, peace and happiness. His student base includes people from all backgrounds, age groups and spiritual orientations.

After decades of travelling, studying, exploring and implementing practices within various mystical traditions and yogic sciences, Dr. Levry merged what he observed to be the most healing and therapeutic applications for lasting health and wellbeing under the single discipline of Naam Yoga. This powerful form of yoga is a carefully selected treasury of the world's finest healing arts and metaphysical principles, and a symbol of Dr. Levry's lifelong mission to provide humanity with the purest, most sophisticated tools for self-healing.
El Dr. Joseph Michael Levry es autor, compositor, conferencista internacional, productor de música sagrada y un dedicado Maestro. En su trabajo, el Dr. Levry tiene la visión de proporcionar a la humanidad las herramientas para un estilo de vida saludable, la paz y la felicidad. Su grupo de estudiantes incluye a personas de todos los orígenes, grupos de edad y creencias espirituales.
Después de décadas de viajar, estudiar, explorar e implementar prácticas dentro de varias tradiciones místicas y ciencias yóguicas, el Dr. Levry fusionó lo que observó como las aplicaciones más curativas y terapéuticas para la salud y el bienestar duraderos bajo la única disciplina de Naam Yoga. Esta poderosa forma de yoga es un selectivo tesoro de las mejores artes curativas del mundo y de los principios metafísicos, y un símbolo de la misión del Dr. Levry que es proporcionar a la humanidad las herramientas más puras y sofisticadas para la autosanación.
What people are saying:
Master Class gives you exactly what you need at exactly the right time and in the exact right amount. I am 42 years old and I had been feeling some weakness in my heart that I was afraid would never improve. After three months of attending Master Classes regularly, I was walking up a huge hill one day and noticed how amazing I felt—no trouble from my heart whatsoever! It isn't just the physical healing that Master Classes bring, they help you get out of any negative thinking or feeling that you may be subconsciously addicted to. One thing that I have learned from Master Class is that thoughts create your reality and I feel like I am a much more positive person now. People are always telling me how youthful I look and I just tell them to go to Master Class!!! -----A.H.


It is hard to put into words the amount of healing and joy that happens in each Master Class. Not only do I feel healthier, look younger and have a revived interest in waking up each day, people also tell me that I am much friendlier and easier to get along with and although that is something that I wish hadn't needed to improve on, I am so grateful to Master Class for helping me to "align my attitude", because at the end of the day I just want to be a blessing to my family and surroundings. J.P.



¡Lo que la gente dice!
La Clase Magistral te da exactamente lo que necesitas en el momento exacto y en la cantidad correcta. Tengo 42 años y había estado sintiendo alguna debilidad en mi corazón que temía que nunca mejoraría. ¡Después de tres meses de asistir regularmente a Clases Magistrales, un día estaba subiendo una enorme colina y me di cuenta de lo increíble que me sentía, sin problemas de mi corazón! No es sólo la sanación física lo que te da las clases magistrales, sino que te ayudan a salir de cualquier pensamiento negativo o sentimiento subconscientemente. Una cosa que he aprendido de la Clase Magistral es que los pensamientos crean tu realidad y siento que soy una persona mucho más positiva ahora. La gente siempre me está diciendo lo joven que me veo y les digo que vayan a la Clase Magistral !!! Aa
Es difícil poner en palabras la cantidad de sanación y alegría que ocurre en cada Clase Magistral. No sólo me siento más sano, me veo más joven y tengo un interés intenso en despertar cada día, la gente también me dice que soy mucho más amigable, aunque eso es algo que no hubiera tenido que mejorar, estoy muy agradecido por la Clase Magistral por ayudarme a "alinear mi actitud", porque al final del día sólo quiero ser una bendición para mi familia y mi entorno. J.P.
How do I join?
1. Choose your subscription - monthly or yearly
Monthly subscription: Every week, have access to one masterclass for 7 days! There will be a new masterclass each week for you to enjoy and practice!
Yearly subscription: ***SPECIAL BONUS!!!*** With a yearly subscription, you will have access to 3 masterclasses every week!!!
2. Sign up
3. Access your masterclass experience through your personal teachable login
¿Cómo me suscribo?
1. Elije tu suscripción: mensual o anual
Suscripción mensual: ¡Cada semana, tienes acceso a una Clase Magistral por 7 días! ¡Habrá una nueva Clase Magistral cada semana para que la puedas disfrutar y practicar!
Suscripción anual: *** BONO ESPECIAL!!! *** ¡Con una suscripción anual, tendrás acceso a 3 Clases Magistrales cada semana!!!
2. ¡Regístrate!
3. ¡Acceda a su experiencia de clase magistral a través de su acceso personal para enseñar!
Frequently Asked Questions
May I register for 1 month only?
The monthly subscription plan is designed to be an ongoing subscription. Your credit card is charged automatically every month.
What if I need to cancel my subscription?
Click on your student profile picture. Choose "Manage my subscriptions" form the dropdown menu. Once you click on "manage my subscriptions", it will take you to a screen where you can cancel.