Thursday, 07:30am PDT: The Naam 5
The Naam 5 is the best combination of movement - sound - positive energy - breathing - expansion. It makes our aura brilliant, heart and lungs strong, and supports our mind to move forward. A truly powerful sequence. This is a 45 minute class that leaves you vibrant and healthy.

Replays are uploaded as soon as possible after the recording has processed. From time to time there may be a slight delay.

Your Instructor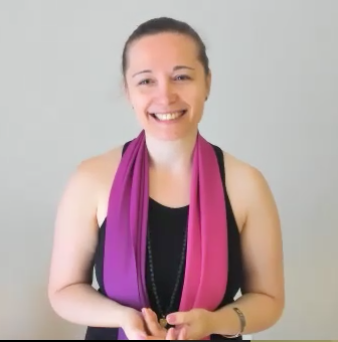 Over the past 12 years, Stephanie has dedicated her life to learning and sharing the science of lifestyle medicine focusing on emotional and mental self care and resilience. With her support her clients have overcome modern day dis-eases like insomnia, anxiety, depression or burn-out through a purposeful combination of movement, breathing exercises, sound vibration, coaching and healing sessions.
Stephanie holds a Bachelor degree in Business Administration, and is certified in aromatherapy and the natural healing modalities known as Shakti Naam®, Sukshma Vyayama Powered by Naam® as well as Harmonyum® and Harmonyum Touch®. As part of the international trainer team for these modalities, Stephanie coaches the next generation of teachers and practitioners.
Frequently Asked Questions
Can everybody practice the Naam 5?
Yes. This class is open to all fitness level.
What is the Naam 5?
The Naam 5 is a class specifically designed to support our immune system and heart health and to strengthen and tone our body. You will experience a 30-minute cardio workout, a short relaxation and a short sound meditation.
What do I need to bring to attend this class?
There is no special equipment needed. Bring a water bottle to stay hydrated. Make sure that your space is cleared and that you don't slip, when moving. For relaxation, we recommend to use a bolster under your legs and to cover your body with a light blanket.