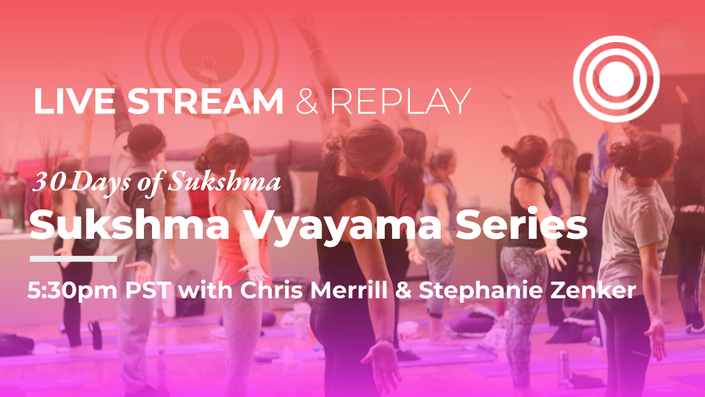 5:30pm Sukshma Vyayama Series with Chris Merrill and Stephanie Zenker (Nov 15 - Dec 15)
Live Sessions 6 Days a Week
Enroll in Program/Classes
Sukshma Vyayama Powered by Naam as Taught by Dr. Levry

Based on a health practice that has been kept secret for centuries and is now being introduced to the Western World, this series of exercises is used by advanced yogis when coming out of Samadhi (a deep state meditation where the practitioner may be still for hours, days or months at a time) to bring life and vitality back in the body. It is called the yoga of immortality as it works on the subtle body known as Sukshma Sharira which gives life and vitality to the physical body. This practice adds in Naam and specific body angles and is designed to rid the body of disease, re-establish the flow of prana in the body, and awaken dormant powers in you.
It looks and feels different from other forms of yoga and the energy released is felt within the first 5 minutes of practice.This is a wellness and health practice that complements any other forms of yoga, athletics, performance and fitness modalities you may do and causes you to catapult to a new level of excellence. With a consistent practice of Sukshma Vyayama Powered by Naam you feel renewed, and you gain an inner strength and power rarely accessed through any other means.
Benefits include:
Improved brain function (concentration, focus, memory)
Balanced endocrine system (hormonal balance)
Revitalized muscular and skeletal system (endurance, resilience, posture, muscle tone)
Reduced neck and shoulder tension
Increased metabolism to support ideal body weight
Enhanced detoxification to rid of environmental and internal toxins
Sustained energy flow through the day
Harmonized digestion and elimination
Heightened proprioception and balance
Improved eyesight
Increased joy
Balanced emotions through the power of sound vibration
THIS SERIES with Chris Merrill and Stephanie Zenker runs mid-November thru mid-December (Free intro session on Sunday, November 15th, then Live Sukshma Vyayama Sessions six days a week Monday-Saturday at 5:30pm - 7:30pm PST until December 15th.
COURSE SCHEDULE
FREE INTRO SESSION: Sunday, November 15th at 3pm - 4pm PST (select just that session in the pricing options to attend the intro for free).
SUKSHMA SESSIONS: Monday, November 16th - Tuesday, December 15th. This course offers 6 LIVE classes each week, Monday thru Saturday.
Chris teaches Tuesday, Friday and Saturday. Stephanie teaches Monday, Wednesday and Thursday.

LIVE class days are MONDAY, TUESDAY, WEDNESDAY, THURSDAY, FRIDAY, SATURDAY at 5:30pm - 7:30pm PST. You will access class from inside the course by going to the class day and pressing start. Recommend to come start a few minutes before class time. The live classes are hosted on Zoom.

REPLAY

classes will be available for Sunday practice and if you miss the live class.
Special Covid-19 Pricing

This course is offered at a discounted price to support our global students during this current period of change and challenge. It also is priced lower than the series with more live sessions.
CHOOSE FROM PAYMENT OPTIONS WHEN ENROLLING
30 DAY PRACTICE $250 (course access Nov 15th - Dec 15th)
ONE DAY PASS (expires 24 hours from time of purchase) $25
FREE INTRO SESSION: Sunday, November 15th at 3pm - 4pm PST (select just that session in the pricing options to attend the intro for free).

Important note: Please consult your health practitioner before starting this or any other yoga practice. By purchasing this course, you agree to the Agreement of Release and Waiver of Liability. Please read it carefully before enrolling.
Agreement of Release and Waiver of Liability
When you purchase this course, you confirm that you have read, understood and agree to the Agreement of Release and Waiver of Liability as defined hereafter.
1. I recognize that yoga and other exercise and movement classes may require physical exertion, which may be strenuous and may cause physical injury. I am fully aware of the risks and hazards that may be involved.
2. I understand that it is my responsibility to consult with a physician prior to and regarding my participation in yoga classes. I represent and warrant that I am physically fit and have no medical condition, which would prevent my physical participation in yoga classes.
3. In consideration of being permitted to participate in the yoga and other classes at I agree to assume full responsibilities for any risks injuries, or damages, known or unknown, which I may incur or sustain, as a result of participating in yoga classes.
4. I hereby request and consent to participate in the course "LIVESTREAM Sukshma Vyayama Intensive". I, my heirs or legal representatives, in consideration of my all services, classes and Harmonyum treatments forever release, waive, and covenant not to sue teachers, Naam Los Angeles, Rootlight International Inc., its officers, employees, and any other people officially connected, for any injury and do release from any and all liability due to injury, sickness, dissatisfaction, disagreement with content or teaching style and/or from whatever source which might occur during or after participation in that course.
Your Instructor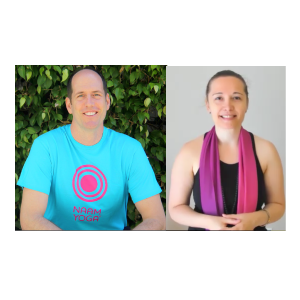 Chris Merrill
Chris Merrill has achieved success in 4 different worlds: Yoga, Spirituality, Business, and the Performing Arts. Chris has spent the last 20 years of intense daily study, learning, teaching and practice of multiple styles of yoga, breathwork, meditation, healing and spirituality, simultaneously immersed in the business of yoga, and preceded by an additional 10 years as a successful professional musician. Individually examined, Chris's area of expertise in each area is unique. Together they form a remarkable holistic synthesis to bring the best out of life, and to help others do the same.
Born in New York, and raised in France and Denver, Chris now resides in Malibu, CA. Chris has produced 17 meditation albums with hundreds of tracks, and is looking to releasing more music through Practical Naam, and for Naam Education.
You can view Chris' works at chrismerrillyoga.com, edu.naamyoga.com, nyla.naamyoga.com. Chris also hosts live and pre-recorded classes for Naam LA on his Chris Merrill @ NAAM LA yoga channel.

Stephanie Zenker
Over the past 12 years, Stephanie has dedicated her life to learning and sharing the science of lifestyle medicine specialising in women's wellbeing and empowerment. With her support her clients have overcome modern day dis-eases like insomnia, anxiety, depression or burn-out through a purposeful combination of movement, breathing exercises, sound vibration and healing sessions.
Stephanie holds a Bachelor degree in Business Administration, and is certified in aromatherapy and the natural healing modalities known as Shakti Naam®, Sukshma Vyayama Powered by Naam® as well as Harmonyum® and Harmonyum Touch®. As part of the international trainer team for these modalities, Stephanie coaches the next generation of teachers and practitioners.
Classes & Important Messages
LIVE SESSIONS: FREE INTRO Sunday 11/15. Classes Mondays, Tuesdays, Wednesdays, Thursdays, Fridays and Saturdays at 5:30pm-7:30pm PST. Click Start to Right of Class Day
Available in days
days after you enroll