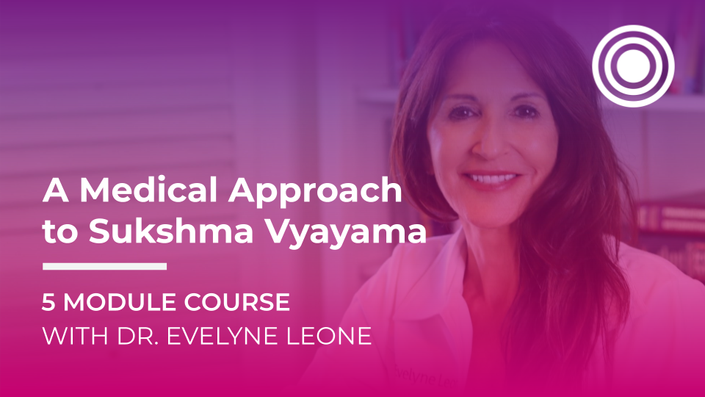 A Medical Approach to Sukshma Vyayama with Dr. Evelyne Leone
Program Bundle of 5 Modules on Saturday and Sunday May 1-2 and May 15-16, 2021
A Medical Integration of the Sacred Practice of Sukshma Vyayama
Learn the Anatomy and Physiology of Sukshma Vyayama to get the best physical benefits of your practice, guide your students, and protect their health. Understand how your body gets transformed and how you can tap into your optimal state of health with Sukshma Vyayamaby studying the basics of physiology and anatomy.
A new revolutionary approach that combines Spirituality and Medicine to protect and enhance your health and become a knowledgeable intuitive teacher.
In those times where we need stronger immune systems and stress resilience, we have to reach our self-healing potential, and knowledge is power. By understanding the medical benefits and the depth of the SV practice, you can bring your teachings to the next level, and optimize your personal health.
This course includes Dr Evelyne's Mind-Guided Body scans which will provide you with the experiential learning of the physiology of your body. They will also prepare you for a more mindful and empowering SV practice.
Sukshma Vyayama is a comprehensive practice that has powerful effects on physical and mental health. It works the whole body addressing the muscles and organs in subtle ways that create healing and slow down aging.
Sukshma Vyayama allows to body to be liberated from the oppressive overactive anxious mind, eventually freeing it from its limitations.
The results are the multiple health benefits of Sukshma Vyayama:
Increased circulation and blood flow

High oxygenation of all the organs of the body

Posture improvement and less neck and back pain

Joint mobility

Muscle strength

Pain reduction

Detoxification

Optimized Heart rate variability and cardiovascular health

Hormonal balance

Neurotransmitter regulation

Nutrient absorption

Increased metabolism

Immune balance

Stress resilience

Improves genetics

Boosts mood and brain focus
And much more…
About the Mind-guided Body scans
"Spiritual people often have an intuitive understanding of the way the body works. Without having studied medicine, they can sense what is happening in their body, know what to do to feel better, and what kind of foods and medications are better for them.

The mind-guided body scans I developed are meant to deepen this intuition and so you can develop a clear vision of the physiologic processes that orchestrate physical life.
This is a proactive meditative experience that involves the mind in a relaxed opened state, the body with all its senses, and the enhanced participation of the spirit.
It is a new way to learn through an inner exploration, rather than just an intellectual task. Therefore it causes the anatomy and physiology teachings to be easily learned and imprinted in the memory.
This is multi-sensorial approach to learn the basics of anatomy and physiology for the purpose of improving one's health and guiding students and patients in their healing journey."
MODULES: The complete course includes all 5 modules. Enroll in This Course for $399 for complete bundle. Or you can select a module of interest and enroll individually for $100 (links at end of section description). 50% of the proceeds from this course and the modules will be donated to Naam Estate.
Module 1) Saturday, May 1 at 11am-12:30pm PDT: The Physiology of Breathing and the Cardiovascular System

The transport and delivery of oxygen throughout the body
Blood circulation and the heart -lungs circuit
The Vagus Nerve and its effects on heart rate and blood pressure
Heart Rate Variability and its impact on heart health
Posture and its effects on diaphragmic breathing and chest muscles
Module Mind-guided Body scan: An exploration of the Physiology and Anatomy of Breathing
Module 2) Sunday, May 2 at 11am-12:30pm PDT: Hormonal Balance
Functions of the hypothalamus and the Pituitary gland
Role of the Pineal gland
Cortisol release and Adrenal health
Hormones and Mood
Sleep and circadian rhythms
Cycle irregularities and PMS
Female and male hormones in relation to health and the aging process
Hormones and weight
Mind-guided Body scan: exploration of pituitary hormones release
Module 3) Saturday, May 15th at 11am-12:30pm PDT: The Nervous System

The Central and Peripheral Nervous System

Basic Brain Anatomy
The Sympathetic and parasympathetic Nervous System
Neurotransmitters and their action on the brain and the body
Fascia, Skull bones and the Spine
The Cerebrospinal Fluid
Craniosacral therapy and Harmonyum
Mind-guided Body scan: Exploration of the Stress Cascade and how to stop it
Module 4) Sunday, May 16th at 8:00am-9:30am PDT: Gastrointestinal Health
The GI system: How SV helps with leaky gut and the Bacteriome (gut flora)
Optimal Nutrition for energy, skin glow, and balanced weight
Supplements
Nutrient absorption
Detoxification: organs of detoxification liver, skin, intestines, kidneys
Mind-guided Body scan: Mindful Detoxification
Module 5) Sunday, May 16th at 11am-12:30pm PDT: Energy Production and Metabolism
Cellular health: Electrical and Chemical reactions
The Mitochondria
The Krebs Cycle, the transformation of nutrients into body energy
Metabolism and weight balance
Cellular Health and Epigenetics: How SV changes your DNA
Mind-Guided Body Scan: Absorption and transformation of glucose into Energy
Each module is available Livestream and by Replay, In English and in Spanish.
Enroll in the complete program of 5 modules (save $101)
Your Instructor
Dr. Evelyne Leone, the founder of the Institute of Conscious Health, is a board certified expert physician in Anti Aging, Functional and Regenerative Medicine who has been practicing with Naam Yoga for many years.
She was trained at the Cleveland Clinic and the American Academy of Anti Aging Medicine. Dr. Leone also holds certifications in Brain Fitness, Ayurvedic Medicine, Yoga, and Reiki. She combines conventional, holistic medicine, and mind-body practices to address chronic and diseases, prevent disease, and slow down the aging process.
Her work as a physician who integrates body, mind, and spirit has led her to collaborate with conscious leading teachers in spiritual psychology. She is seeing patients in private practice and offering online courses.
Evelyne Leone DO, Faarfm, Abaarm
"Love your Health & it will Love you back"
INSTITUTE OF CONSCIOUS HEALTH
Anti Aging and Functional Medicine
http://instituteofconscioushealth.com/
In February 2021, Dr. Leone's book, Into the Heart of Health: Reaching Your Heart Threshold, an Unshakeable Balance in Body, Mind, and Emotions was published by Balboa Press (a division of Hay House).
Courses Included with Purchase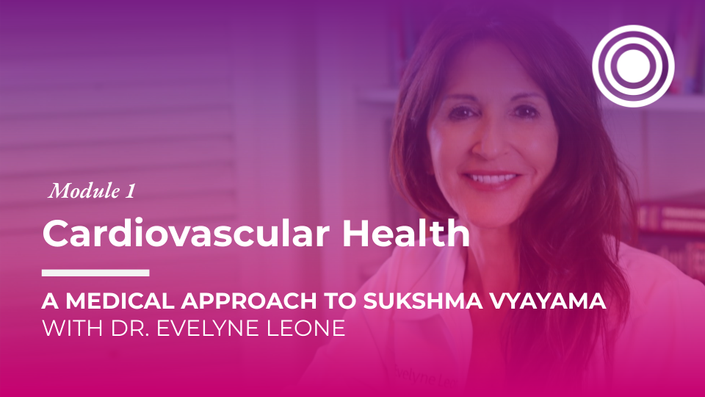 A Medical Approach to Sukshma Vyayama with Dr. Evelyne Leone: Module 1
Cardiovascular Health on Saturday, May 1st at 11:00am-12:30pm PDT
$100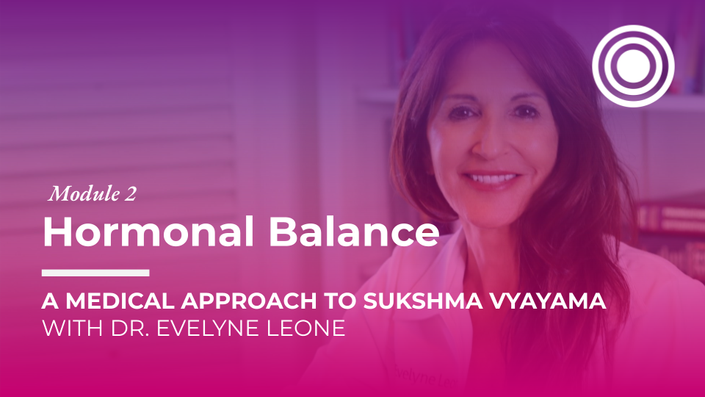 A Medical Approach to Sukshma Vyayama with Dr. Evelyne Leone: Module 2
Hormonal Balance on Sunday, May 2nd at 11:00am-12:30pm PDT
$100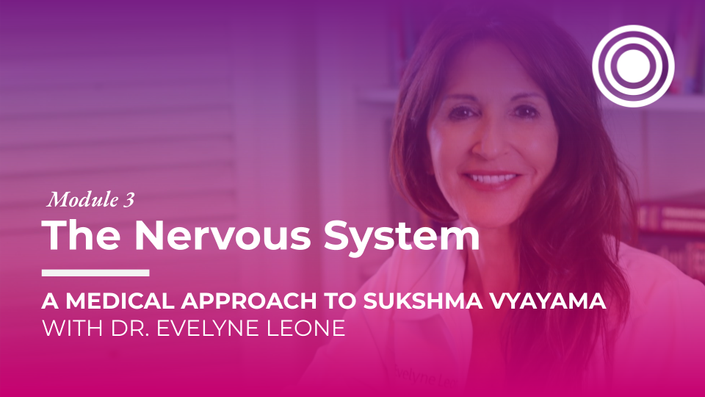 A Medical Approach to Sukshma Vyayama with Dr. Evelyne Leone: Module 3
The Nervous System on Saturday, May 15th at 11:00am-12:30pm PDT
$100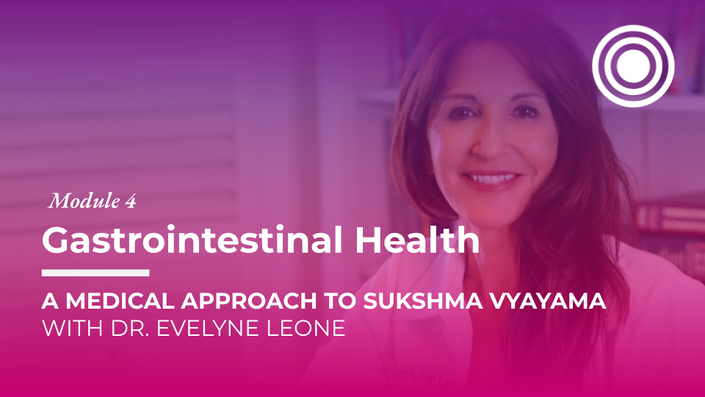 A Medical Approach to Sukshma Vyayama with Dr. Evelyne Leone: Module 4
Gastrointestinal Health on Sunday, May 16th at 8:00am-9:30am PDT
$100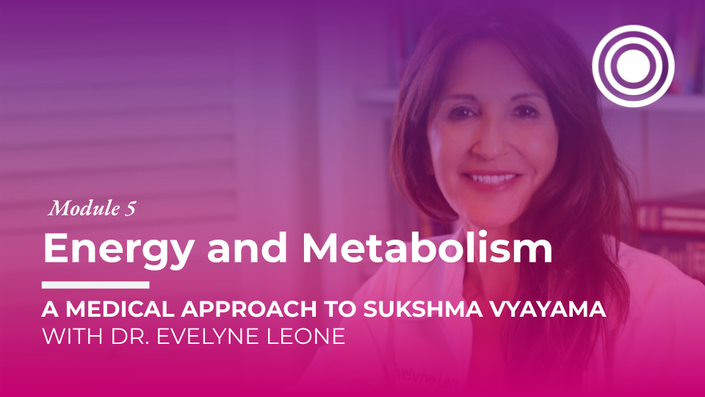 A Medical Approach to Sukshma Vyayama with Dr. Evelyne Leone: Module 5
Energy and Metabolism on Sunday, May 16th at 11am-12:30pm PDT
$100
Original Price: $500