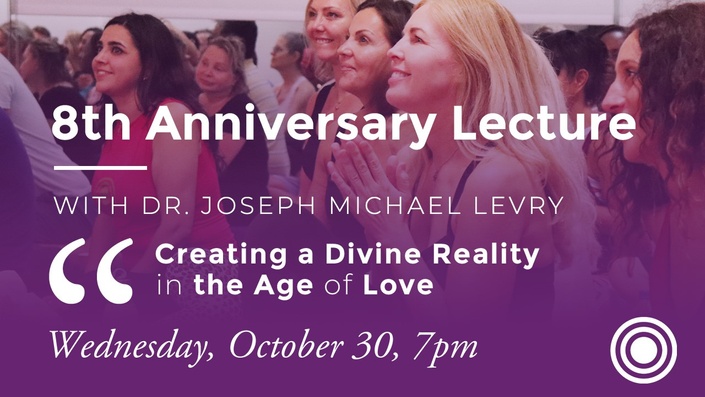 8 Year Anniversary Celebration with Dr. Levry . Celebración del 8º Aniversario con el Dr. Levry
7-Day Replay access
Enroll in Program/Classes
We are delighted and humbled to have received Dr. Levry, the founder of Naam, who lead us in an extraordinary discussion on how to create your ideal reality as well as the importance of building a strong community in this Age of Love!

Sharing in order to receive is the foundation of prosperity and the essence of good. The light that Dr. Levry gives us is the pathway for us to give to others. So let's all give back this week as we celebrate of 8 years of community, love, peace, light and healing.

This annual lecture is a fundraiser for Naam LA. With your help and support, we look forward to continuing our mission to serve others and share the power of Naam.
---
Your donation provides the video replay access:
Video Replay: Will be available until Monday, November 11th 2019!

¡Estamos encantados y honrados de recibir al Dr. Levry, el fundador de Naam, quien nos guiar en una extraordinaria discusión sobre cómo crear tu realidad ideal, así como la importancia de construir una comunidad fuerte en esta Era del Amor!
Compartir para recibir es la base de la prosperidad y la esencia del bien. La luz que nos brinda el Dr. Levry es el camino que debemos dar a los demás. Entonces, demos semana mientras celebramos los 8 años de comunidad, amor, paz, luz y sanación.
Esta conferencia anual es una recaudación de fondos para Naam LA. Con tu ayuda y apoyo, esperamos continuar nuestra misión de servir a los demás y compartir el poder de Naam.
---
Tu donación te permite tener acceso a la repetición:
Repetición del Video: Estará disponible hasta el lunes 11 de noviembre de 2019.